Automatic Pool Cleaners
We carry Cleaners for Above Ground and Inground Pools.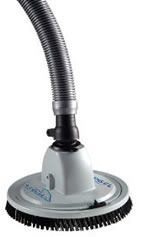 Featuring two-way cleaning action, the 'Lil Shark (left) will remove even the most stubborn dirt and grime from your aboveground swimming pool, leaving it brilliantly clean. This cleaner comes fully equipped and ready to start attacking your pool's dirt and grime. To start using this powerful cleaner, all you have to do is attach the hose and let the 'Lil Shark loose in the water. 
The Pentair Kreepy Krauly E-Z Vac pool vacuum (right) for above ground pools has superior hydraulic design for optimum vacuuming power and only one operational moving part (the flapper) for long, dependable service; no wheels or gears to replace or service. It's free skimming valve automatically regulates water flow to assure proper cleaning speed and simultaneous skimming of surface debris while vacuuming and it works in a true random pattern for coverage that makes sure every inch of your pool's floor is thoroughly vacuumed.
The Pentair LL505G Kreepy Krauly Legend Pressure Pool Cleaner provides added cleaning power with an energy-efficient booster pump at a value price. The Legend Series innovative design is the key to faster and more reliable cleaning. Hydrodynamic body and treaded wheels give them superior traction and stability in any inground pool. And, their powerful vacuum action easily removes large debris and even twigs and pebbles.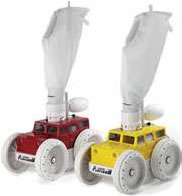 The Pentair (Letro) Legend Platinum Truck (Hummer) Version. This is the truck version and the features are the same as the Platinum.  These come with your choice of red, yellow, grey or white top.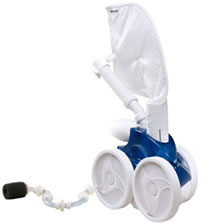 The Polaris 360 roams the pool bottom and vacuums the walls spotlessly clean without a booster pump and is Ideal for vinyl, gunite or fiberglass in ground pools of any size or shape. The internal back-up timer automatically frees itself from nooks and crannies, so it keeps cleaning any shape pool without interruption in 3 hours or less. Because it operates on the pool's return line so your skimmer stays free to clean surface debris. As the pool cleaner sweeps the pool, it also distributes chemicals and heat throughout the pool for better circulation and chemical effectiveness. Includes filter bag and 31' hose kit.